---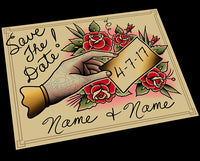 This design is available as a physical postcard (standard size 5.47 x 4.21 inches), a digital file, or an 11x14 print. Please choose your option.
Please leave your information (names and wedding date) via the notes section during checkout.
Please give approximately 2 weeks for processing of cards. Three business days for file or print.
Thank you!